I started this project about 3 months ago, using a little 1969 Kawasaki G3 that I bought off craigslist for $100 as a base. I had previously built a couple cafe racers, so I wanted to try something else. I thought this bike would make a great Brat style. I'm about 80% finished with it, so please excuse the fact I'm posting a lot of info in this first post.
Before:
My original concept sketch:
Tearing it down: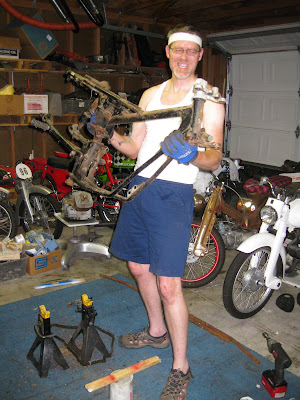 Couldn't help but mock it up at a lower ride height:
I did some chopping. Removed the rear section of the frame:
Replaced it with a tubular section that is triangulated down to the main frame plating:
Inside the head/cylinder:
I made quick progress over a single weekend, getting the frame painted, and lots of accessory items cleaned and painted. I hit the gas tank with a quick base of silver: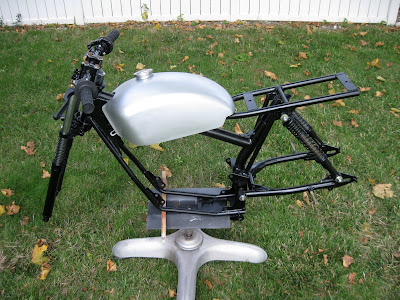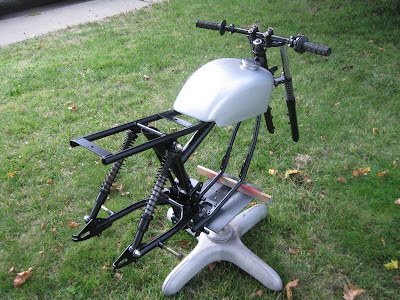 I'm usually a tightwad on my projects, but on this one I knew the proper wheels and tires were critical to getting the correct look. So I sprung for some 2.15x18 Warp9 rims, found some NOS spokes, and new 4.1x18 Shinko tires:
I also used a generic headlight I had in the parts bin, through on a simple bar and some new 7/8" controls: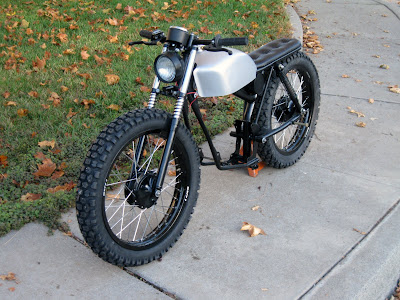 The seat is a very simple design, using some little furniture sliders pins pushed through the foam, and crimped over on the bottom. Gives it a bit of a pleated look without sewing:
At this point, the gas tank was sent off to my pops for some paint, so from here on out all pics will be tankless:
Engine mounted:
Doing the wiring, thanks to my wife for letting me play in the living room on a cold day: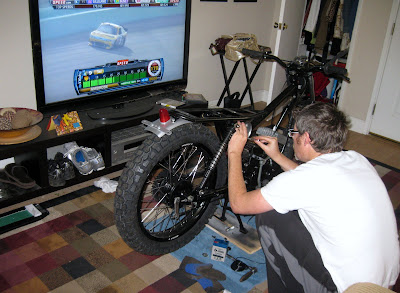 With the stock exhaust cleaned up and mounted:
I don't like it though. The exhaust it about 12 inches too long, since it has multiple baffles and a spark arrestor can built into it. I'm either going to cut this up and build a better expansion chamber shape, or just build an expansion chamber out of scratch. That could be a good weekend project.
Now, about the tank. For some reason, I had always envisioned some righteous 1970s mural on the gas tank for this bike. Since my families business has revolved around vintage Saab automobiles, we've always had dragons in art work. And as luck would have it, my stepdad is actually an industrial designer and artist. He is especially good at dragons. And naked ladies with big tits. So I gave him the freedom to join those two concepts into an epic mural. It could be a naked lady riding a dragon. It could be a naked lady sitting on a rock smoking a cig, while a dragon flies overhead. I have no idea. I just hope it has tits and dragons.
I hope to pick up the tank during a visit around Christmas. So I'll post pics then.
As far as the rest of the bike goes, it is near running. I have spark, rebuilt the carb, and it almost kicks over. I need to play with the timing and sort out the air/fuel mixture and idle speed. I obviously won't be able to go very far without a fuel tank, but making it bark for the first time will be nice. But before that, I need to build an exhaust.
Chris H.