Hey everybody, my first post here and my second motorcycle build project. My first, was
this XS650 I built for myself last summer.
I started this project when a girl I know told me she wanted a bike. It didn't take much convincing before I found a Craigslist ad and was driving out with my dad's truck to pick up these two Honda 175s for $550.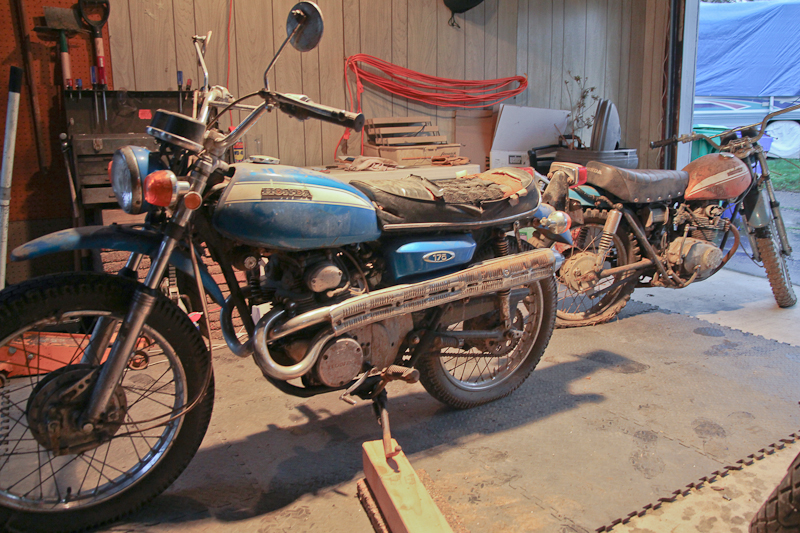 The blue one is a CL175 and the orange one is an SL175, both 1971. The major difference is the CL has a stamped frame and the SL has a standard all tube frame. The CL motor looked to be in better shape so I was planning (maybe still am) on swapping the engines. Originally I'd planned on building just one bike and using the other as a donor for parts. But I've since decided that it'd be best to have two running bikes. So after we finish the CL175 cafe project, we'll get the SL running and sell it to recoup some of them money we spent on the build.
Stripping down the CL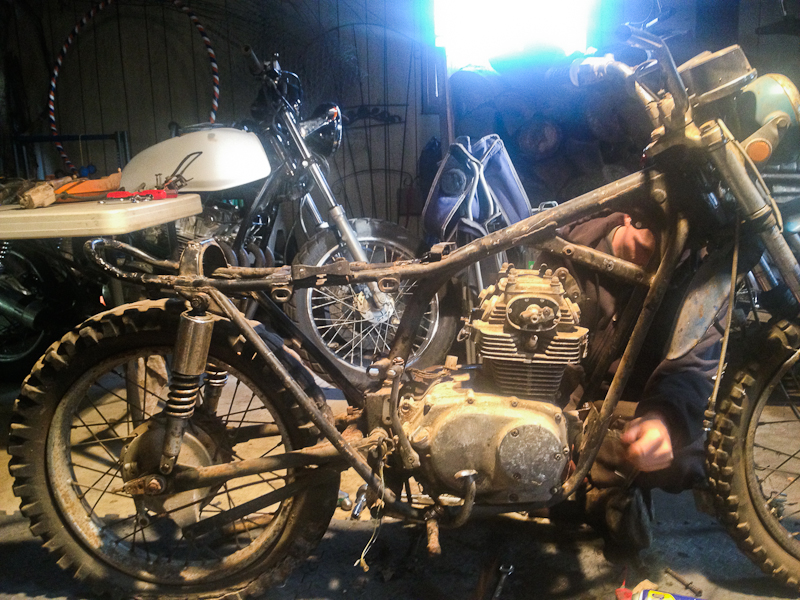 First thing I did was swap the forks and trees. I borrowed this XL125 (edit- actually XL175) from the junk yard and took the whole front end off.
At this point my garage reached vintage-motorcycle-nirvana. My house mates weren't nearly as excited about this as I was. Pictured clockwise - 81 XS650, XL175, 80 CB750, 71 SL175, 71 CL175!!!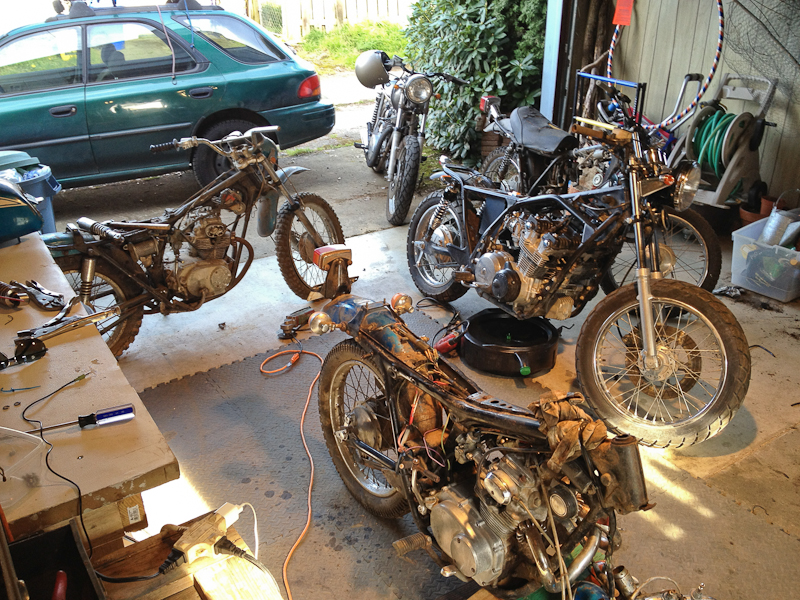 Now that I don't have a cap style triple tree I could push the forks through and have more room to run these 31mm clipons, which we found here in town at
Vicious Cycle.
Next we headed back to the junk yard and started digging through their room full of gas tanks. Decided we liked the look of the center tank, which I swear is a cb160 tank. And yes, it's missing the knee pads, the gas cap and the petcock. But she had to have.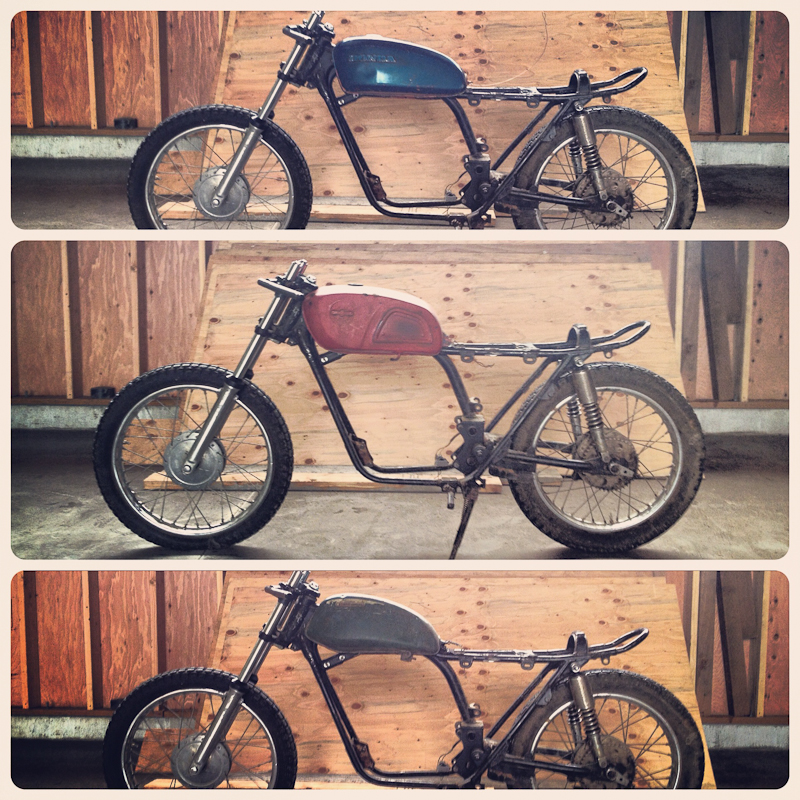 Paid $20 for the tank, brought it home cut off the old brackets and welded on some new ones. Here's the future rider trying out her bike. I, being 6'3" look ridiculous on this tiny thing. Her on the other hand...pretty good fit, right?
Next we stripped the paint off the tank.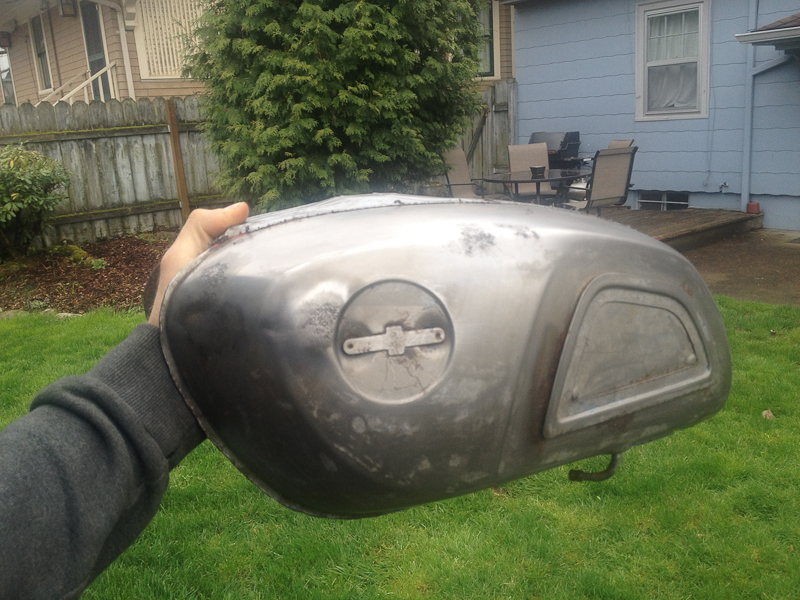 Got a seat built over at
Glass From The Past.
The fiarings aren't for me, thought it looked sweet though.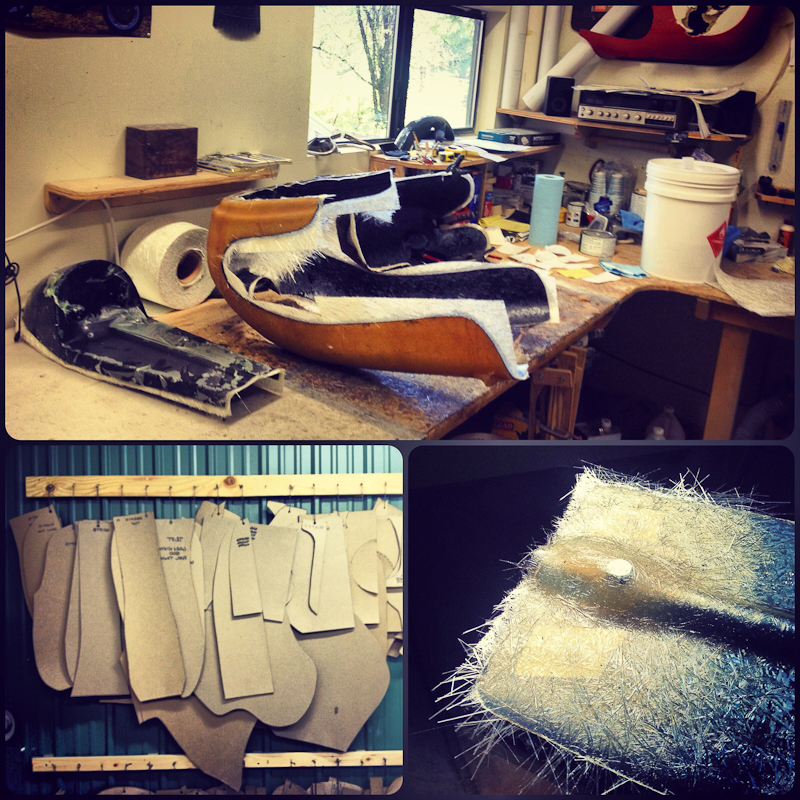 Got the seat fitted on the frame after cutting off the rear loop and grinding down some old welds.
The seat is now getting upholstered and I'm making good progress on rebuilding both engines.
I'll keep dumping iphone pictures here as the build continues. And I am gonna have some questions here in the future, so anybody that's built 175s, leave me a comment.