What's going on fellas?!
Been reading this site for the past few months, lurking, etc.. And felt a had to have a bike.
Never owed a bike of my own, my parents are mortified by them, so I've never had the chance to grow up on one..
Despite their feelings, i said f$%k it, and at the age of 22, I've got myself a bike.. in parts..
I've never worked on a bike, maybe a few Go-Karts and Go-Peds here an there, but after reading a few threads and
looking over some Shop Manual PDF's, I think I can tackle this project from bare bones..
I was pretty surprised to find out when I got the bike/parts lot, it was (tobiism)'s 360 project!
Further confirming the tiny size of this two wheeled community..
http://www.dotheton.com/forum/index.php?topic=9335.0
With that being said, I'm ready to put this engine back together, what's left to do is hone the cylinder,
,drop the Chain Tensioner Holder/damper/slipper in place, and bolt her up.
I've got new Head and Base Gaskets and 67mm Flex-Hone in today.
- Are there any things I should watch for as I rebuild the top end?
- Any tips when I hone? I've been following this video for technique..
Motorcycle and ATV Cylinder Hone Instructions - Flex-Hone
- When I've honed the cylinder, and am installing pistons, should I oil up the rings and cyclnder walls? What oil? (Spray Sillicone, or a light coat of 10-30 or 5/30 oil?)
I'm going to have a bunch of retarded questions.. :-[
I need to left side cracnkcase gasket, I've seen a few on ebay, but I can justify some of the prices..
- Could I just make a gasket for the cracnkcase? It doesn't get as hot as the jugs etc.. from what I can concur..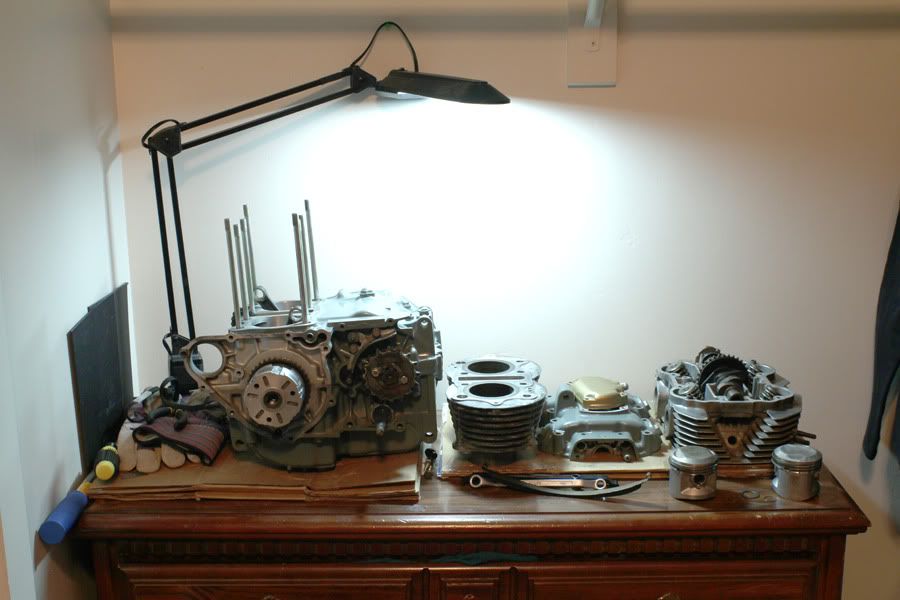 Thanks Dudes!