Keep er' Between the Ditches
DTT SUPPORTER
DTT BOTM WINNER
Wasnt sure of where to post this as it will not be a true concourse resto by any means, but more of a frame swap/ cleanup. Sorry in advance for the long post, but its my story to tell eh. I know most may just skip to the pictures as I usually do haha It was a few years back when i was about 18 when the vintage motorcycle bug bit me in the form of a 1976 Suzuki GT250. The bike was out for sale a few miles from my house and man was she sexy. Very nice shape for its age, running (though it needs crank seals) and begging to be mine. Talked to the guy and swapped him $75 bucks for my soon to be freedom machine. Before I bought it in my then blissful ignorance he told me that "it doesn't have a title, but you can just go get one." HA to this day I wish it were that easy.
I spent many a afternoon (to my poor mothers dismay) riding that thing up and down the back roads near my house. Of course I had no motorcycle license, the bike had no tags or insurance, and was riding on what are probably the original tires and brake pads... I did wear a helmet though =P
I ended up buying a rough but titled gt250 a few years later on feebay to do a frame swap, but after buying (for far to much money) I got it home and realized that the frame was rusted far beyond repair. Many of the mounting nuts on the frame were rusted to the point of not having threads left. After that point I lost interest in the bike and it has been sitting in dads shop/barn since.
The other day I was thinking about parting the ol girl out and decided to check out craigslist to see if anything comparable was selling as a baseline. During my search I found a Nice, complete titled frame about 2 1/2 hours north of me for $180. The frame for that bike is a 1975 where my nice bike I have is a 1976. My wonderful wife and i went and picked it up Saturday =)
The bike was nice for its age, and the more I am around the ol vintage bikes, the more i realize how lucky I was to find such a solid ol horse. My plan at this point is to fix er back up into a solid vintage rider. No mods planned here besides MAYBE a set of expansion chambers, other than that just a clean old stocker. After that I may ride it for a bit and put her back on the market to fund my other rides. I already told my wife though that i may have a real hard time selling my first vintage bike, so that plan could end up foiled haha.
Here are a few pictures of the bike back when i got it in around 2010 or so.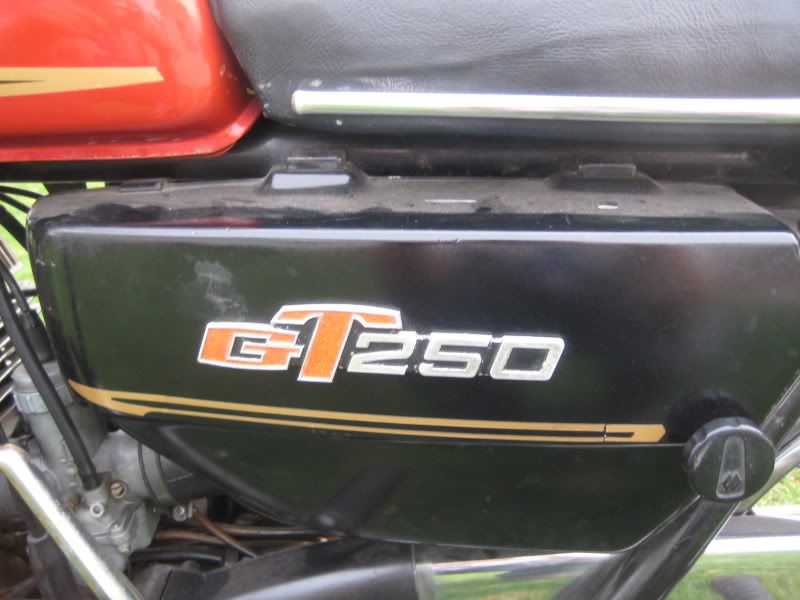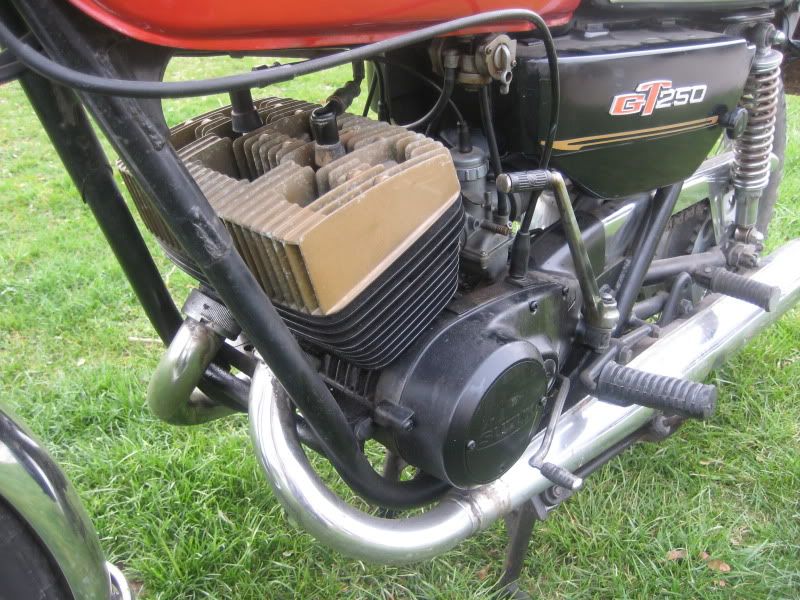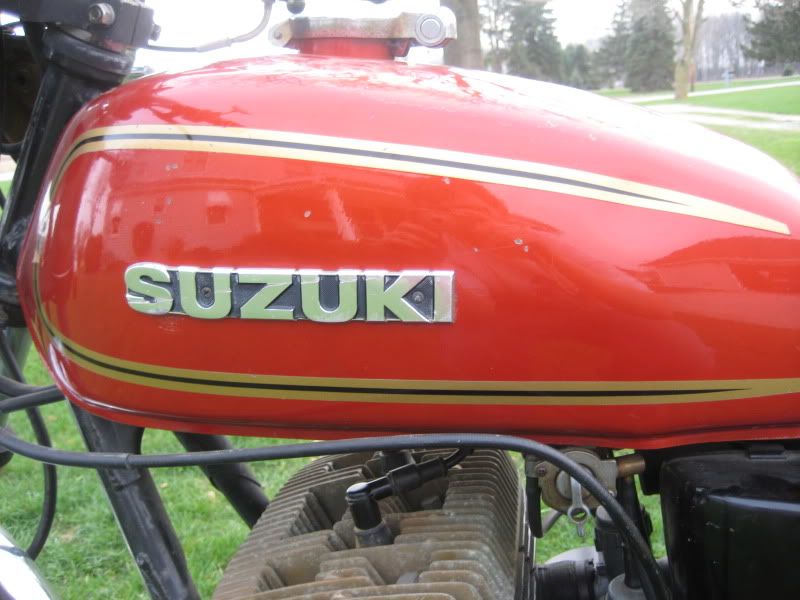 In my 18 year old wisdom I started taking the ol girl apart to replace crank seals, lost interest, started chasing women and my career, and sadly the bike sat apart at my fathers house for the last 6 years. I just got the bike over here to the shop tonight, and I really hope to finish what a started those years ago. She is not quite as shiney as she was, but i know a little elbow grease, bloody knuckles, and some tender lovin, she will be whole again.
Here is the frame i picked up to swap the bike onto
The mill already out and waiting for a clean up and crank seals
Oh and i forgot to mention, the bike only has 7500 on the clock
I am glad the weather is warming up because the car will no longer fit in the garage =p
I also had a guy contact me that he had a nice nos tank.. I just dont think i can swing the $350 right now, though its probably worth it.
Anyhow, crank seals, gasket set, tapered neck bearings and s.s. engine bolt set are all on the way. Hopefully more progress soon =)
Cheers