Keep er' Between the ditches
DTT SUPPORTER
DTT BOTM WINNER
Wasn't sure whether to post up a thread on this or not, but I figured heck there's a sub forum for Enduro and dirt, and since this has been my main two-wheeled bike on the stand lately, why not post it up?
I picked this 2006 dr650 up after attending the 2017 spring thaw and seeing just how much fun everyone had on their dirt machines. I haven't owned any type of dirt oriented motorcycle since I was 12 or 13 riding around on an RM80. I was just searching Facebook Marketplace for Enduros when this popped up, and had no real idea what to even be looking for.
In reality I was looking for a drz400, but this popped up for a price a couldn't pass up on, so I drove a couple hours north and picked it up, though it was making some unsavory engine noises. I thought it was just out of set valves, but it ended up being a loose primary reduction nut. I pulled the clutch case off and tightened it up to 72 ft lb, changed out the clutch discs and safety wired the nsu bolts (a fairly well known fail point on the dr650's of this era)
It spent the large part of the past summer bone stock hauling me around as my daily driver for around 2000 miles, but like most of us, I couldn't leave well enough alone.....
The dr650 has a reputation of being a dead reliable and affordable bike, if not for the sake of being a bit heavy (by dirt machine standards). There is a huge aftermarket availability for the bike, but that usually goes hand in hand with there being plenty of things that NEED upgraded.
First on the list was moving air into and out of the engine. The stock bst carb was just barely adequate to do it's job, so it was pulled and replaced with an fcr39mx bought second hand and originally used on a Yamaha yzf450 quad. It came with a few mods required for the install, but luckily a chap named mx_rob has done a wonderful write-up on them and with a little tinkering it was good to go. The most major of the mods to the carb was deleting the tps block and drilling and tapping for an idle adjuster, as well as machining an adapter collar to mate it up to the stock air box.
Next up was getting rid of the bloated and heavy stock exhaust/ muffler/ tumor like thing hanging off the back. I made up a mid pipe, utilizing the stock header and used a stock 24fo muffler off of a hayabusa. A little cutting, fitting and welding, and she was good to go. The performance upgrade was really astonishing.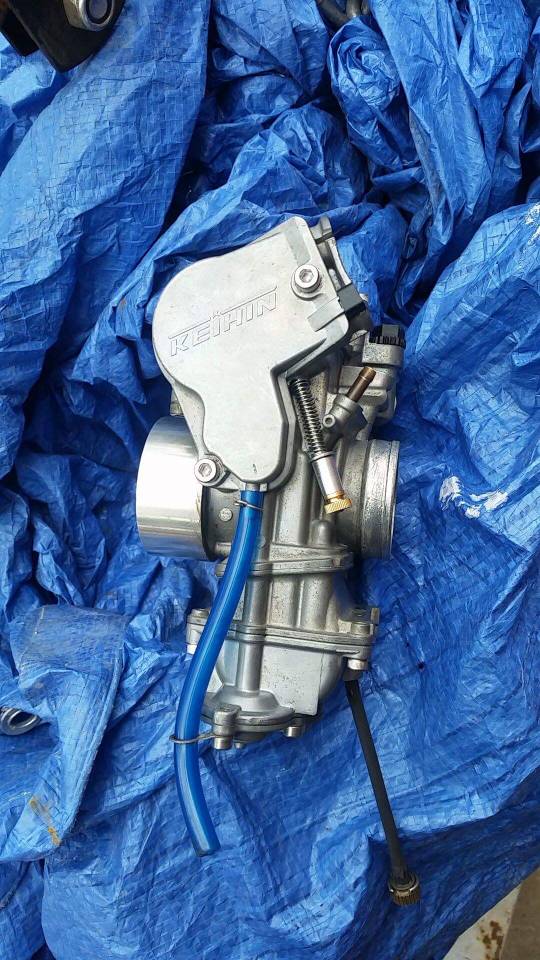 Sent from my SM-G920V using Tapatalk