Comfort the afflicted and afflict the comfortable.
DTT SUPPORTER
DTT BOTM WINNER
We spent last winter in our travel trailer in the Gulfport, MS area and plan to go again this year. It was our first winter as snowbirds and also the first winter in our trailer. Generally things went well, but I came home with a list of projects to make things more livable in the future. I thought I'd document some of them as they are completed just for the fun of it.

We got set up and discovered that the living room TV could be connected to the campground cable connection or the amplified roof antenna but the rest of the TV hook-ups were only to the antenna. To get the bedroom TV connected to cable as well I jury rigged some splitters and a switch and got things working temporarily. Below is the back side of the antenna/cable switch and routing set-up I made to fix it all. I guess it sort of looks a little confusing, as in addition to everything else there had to be a split-off for the amplified antenna signal to feed trailer's built-in AM/FM/WX radio.




It's a little easier to look at on this side. Since the antenna amplifier is powered w/ a 12v feed I'm going to tap into that 12v and add a double USB outlet for cell phone charging below the panel.




The next project was the front of the refrigerator. It bothered Mrs. Ridesolo that the front panels on the refrigerator and freezer didn't match. (If you look close you can see the difference. The thing came from the factory that way.)




The door panels slide out of the front of the doors, so we bought a sheet of 1/4" ply, cut new panels, and stained & varnished them to match the rest of the interior woodwork. (The color match is closer in person than in the pictures.)




Also if you look at the pix above you'll see the propane oven/range unit. We don't use it much, using the cook top made the smoke detector go off constantly, even with the exhaust fan running full speed. We have a microwave, a convection oven, an electric skillet, and a George Foreman grill as well as the outdoor gas grill that work far better for our needs. So, to make more usable counter space I was asked to come up with a cover for the cook top. I made a frame out of some 1x3 poplar and laid in glass and stone tile.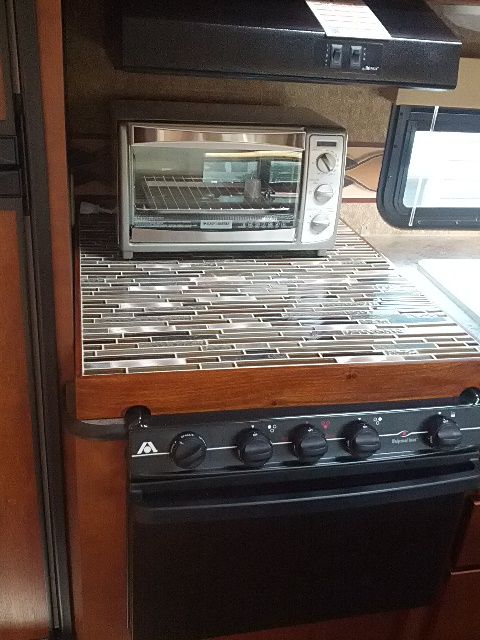 There are a few other projects in the works that I'll try to post as they are finished.