I picked up a pile of shit CB350 from a motorcycle yard sale guy for next to nothing. I really just needed the engine.
I'm running out of styles for CB350s so it took me a little while to figure out the direction I wanted to go.
I cut it up, lowered it, hard tailed it. I plan to recess the seat and have a low gas tank. Might have to make my own or cut up and reweld one I have laying around.
This is what I started with. You can see how much I lowered it in the front by the fork tubes sticking out the top 3". I plan to run only a front brake, no back brake, the bike is so low the brake pedal would scrape when I turn. I plan to use clip-ons mounted below the top plate of the triple tree.
The look I'm going for. Low and sexy. It will prolly not handle good, be stiff, be dangerous but fuck it. It should look cool. I found a 19" front wheel in my shed I'm going to try to use. This one is the stock 18" wheel.
DAYS LATER
I got some work done this weekend. I mounted the seat support bars and did some sheet metal work.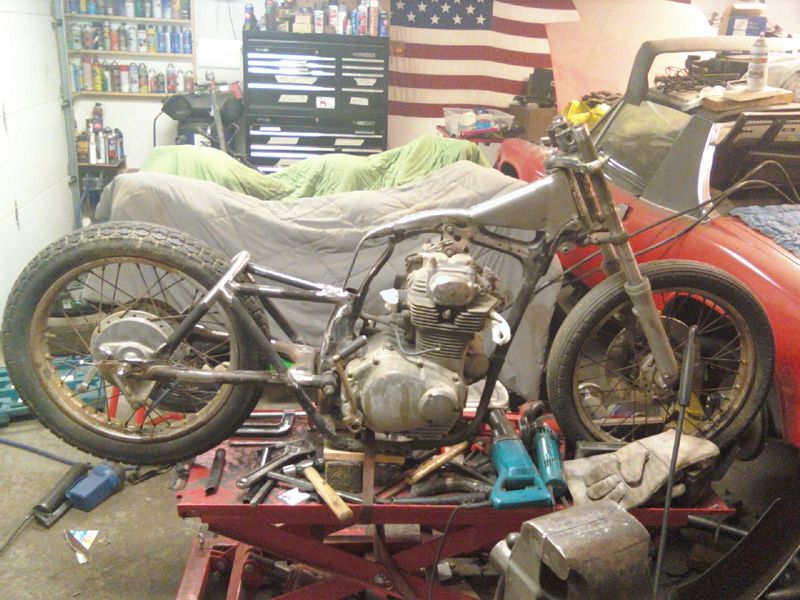 I bent the edges of the sheet metal by beating it with a body hammer over a round pipe to match the contour.
Fully welded. Almost.