Comfort the afflicted and afflict the comfortable.
DTT SUPPORTER
DTT BOTM WINNER
Guess I'll see if I can't keep this thing moving and documented this time. I bought this '75 CL360 several years ago and used it for commuting and it's funny how pieces started falling off. First the luggage rack, then the front fender, then the mufflers, etc. I started reading and lurking here, occasionally contributing a useless comment here and there. I didin't really have a good workshop and the pesky thing called making a living interfered with really tearing into it. I finally got the workshop and, still that job thing and other stuff kept holding things up. Through it all I've continued to read, study, think, aquire parts, read more, study more, and finally work has begun.

I'd love to be able to tell you that all that reading, studying and thinking brought about a careful search and buy of just the right pieces and bits that' will all, seamlessly, fit together to make the perfect bike. Ha! My dear, late mother taught me not to tell untruths. Much of what has worked out well so far has been pure dumb luck.. OK, whatever, I'll accept it.

I can't find any of the earliest pix I had, but the members here are pretty familiar with what a '75 CL360 looks like. This is after I had owned it for a few years, many miles of commuting to work, and what will probably end up being my final exhaust configuration.

[


Then I found a CB400F tank and planned to use it.




I really liked that look but unfortunately we discovered that tank had more rot on the bottom side that we first thought and it wsn't going to be suitable. Another search resulted in this tank that isn't as long, but it'll do the trick. We also found this fiberglass seat. It'll loose the brown, padded cover for something else, but it's a good start.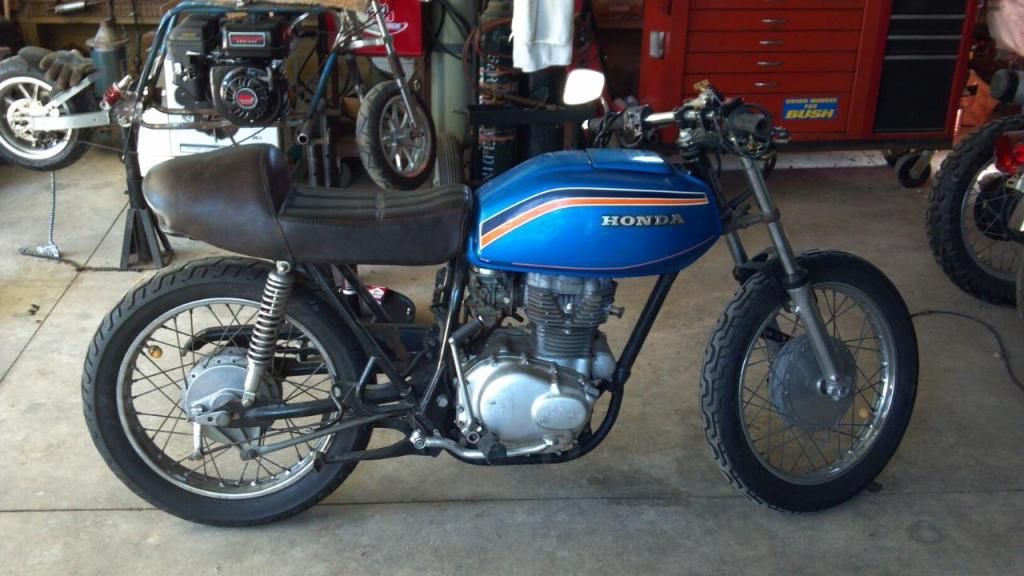 So, with all that general uglyness waiting to be improved, I started working.


Last edited: