'hacking is learning'
DTT BOTM WINNER
I've owned my share of different bikes over the years and although I've ridden a few supersports, I've never owned one. For the last 15 years, I've been very happy with the ZRX as my comfortable hooligan daily and sport touring machine. I also have my Shovelhead Harley chopper and for fun I'm building a cafe style KZ750 twin but I was still missing one.
Early last year I ended up with an interesting 1994 YZF750R project. It came as a disassembled project from the PO but it has a title and instead of the 750 motor, it came with a later model 1000cc Thunderace motor and a rack of FCR41 carbs. The 1000 motor is only about 20mm taller than the 750 at the heads so with very little work the Ace motor bolts into the 750 chassis and this one is already modified for it. Very cool. (yes, a 750 motor still fits my chassis...nice option to have). The PO didn't have much info on mileage or history on this particular Ace motor and the chassis needed misc parts and plenty of sorting so I stuck it in my shed and thought about it awhile. A Yamaha Genesis EXUP 20 valved inline 4 supersport classic.
Timing is everything. After lurking Craigslist long enough, a wrecked 97' YZF750R parts bike showed up and I pounced on it. The frame on the neck is cracked and the forks are likely whacked but the bike went down with only 4129 miles on the speedo and lived in a shed since that day. Other than forks, plastics and tank, it is basically complete and in good shape. I bought the right service manuals and it's time to move forward. For the curious, I'm just under 800$ including both bikes and the manuals.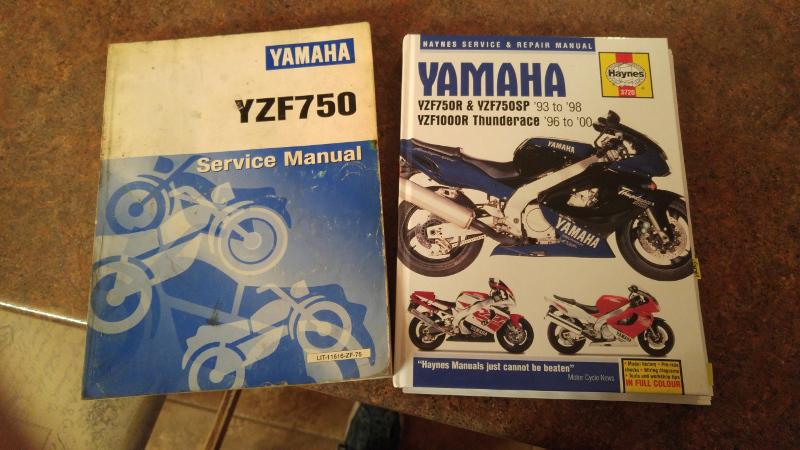 Last edited: