Finally! After several months of searching I have finally found and bought a 1966 Triumph 650 motorcycle. It is a twin carburetor T120R Bonneville, the fastest stock production motorcycle in its day.
Stock 1966 Triumph Bonneville (export or US model)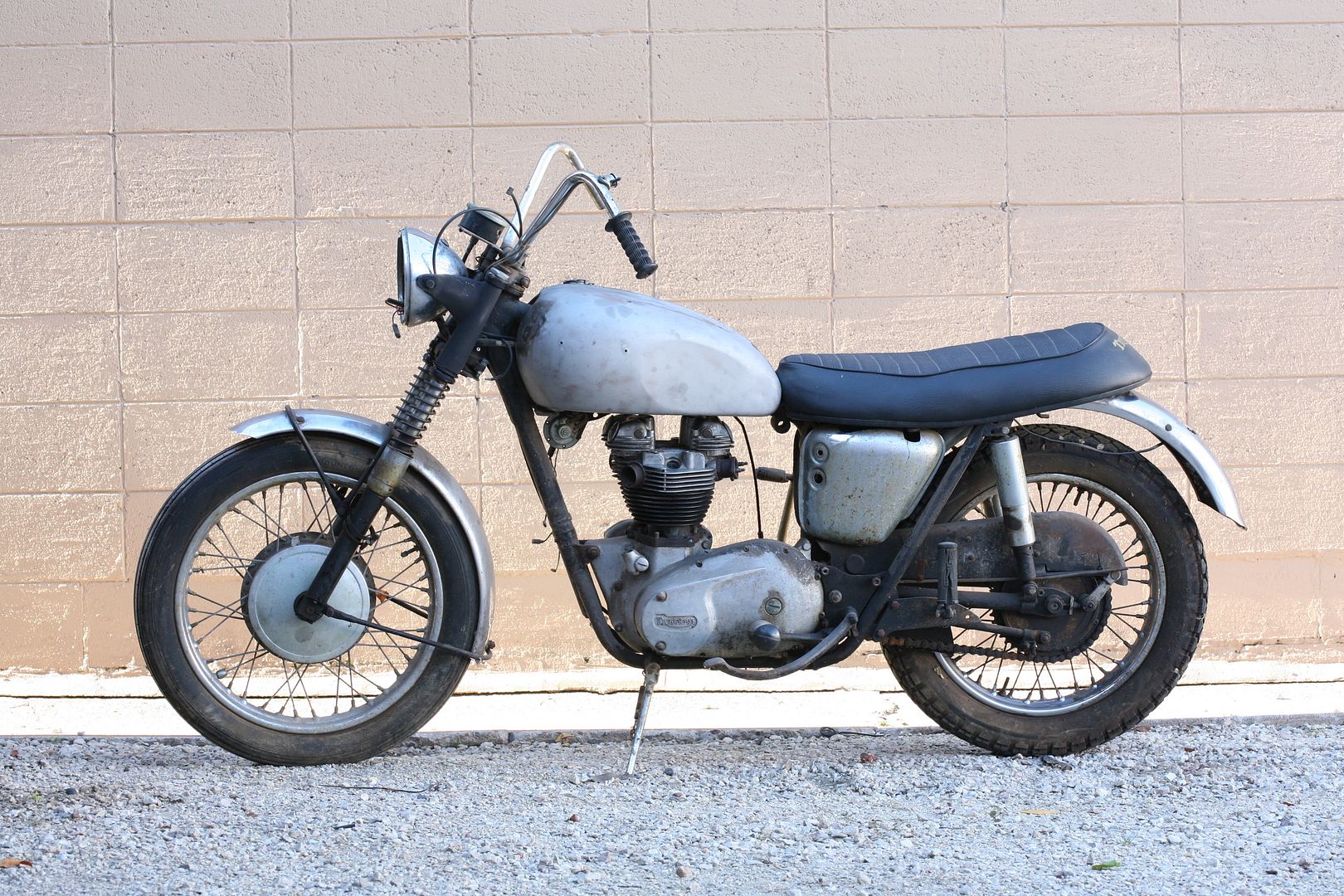 (my new project)
My first motorcycle as an adult was a 1966 Triumph TR6 Trophy, which I sold after a brief summer fling with it and travelled to Europe with the money. I always regretted selling that bike and I do not even have a photo of it nor do any of my friends. A few years ago I picked up a basket case 66 Bonneville with intentions of restoring it but my fate changed when I found my BSA Gold Star and sold the basket case to fund the Goldie's restoration.
Earlier this year I aggressively searched for a 66 Triumph, not a restored version, but a basket case, bobber, chopper, barn find etc. so I could restore it myself. A decent 66 Triumph popped up on Indiana Craigslist and I spoke with a very nice man named Dan and I bought it for $1100. It just so happened I was going to central Illinois with a large truck the following week so I drove over to Indiana to pick up my bike in person. Dan is in his early 60's and has had a lifelong love of motorcycles. He rides a Triumph T160, is restoring a 1967 TR6 along with an Indian chief. He sold this bike to help fund his Indian restoration. It is exactly what I wanted at a great price. It has been sitting unused since 1977.
The good news is it is a matching frame and motor serial number 1966 Bonneville with a title. I have seen a lot less go for much more on Ebay recently. The motor and gear box turn freely, nearly all the black bits are included along with the correct original stainless fenders (mud guards), the one year only oil tank and front drum brake. Included, but not pictured, are the original tank badges, rear fender loop and exhaust pipes. The bad news is the seat and tank are incorrect for a 66 Bonneville, the center stand, headlight and ring, tail light, engine stays, carbs, pistons, push rod tubes and tachometer are missing. The wheel rims are crusty, one foot rest and the front fender stay are bent, the left side cover and oil tank have been chromed. Ugly handlebars, missing controls etc but to my eye it is the perfect start to my next winter project. I plan to have it ready to ride in the spring for her and my 50th birthdays.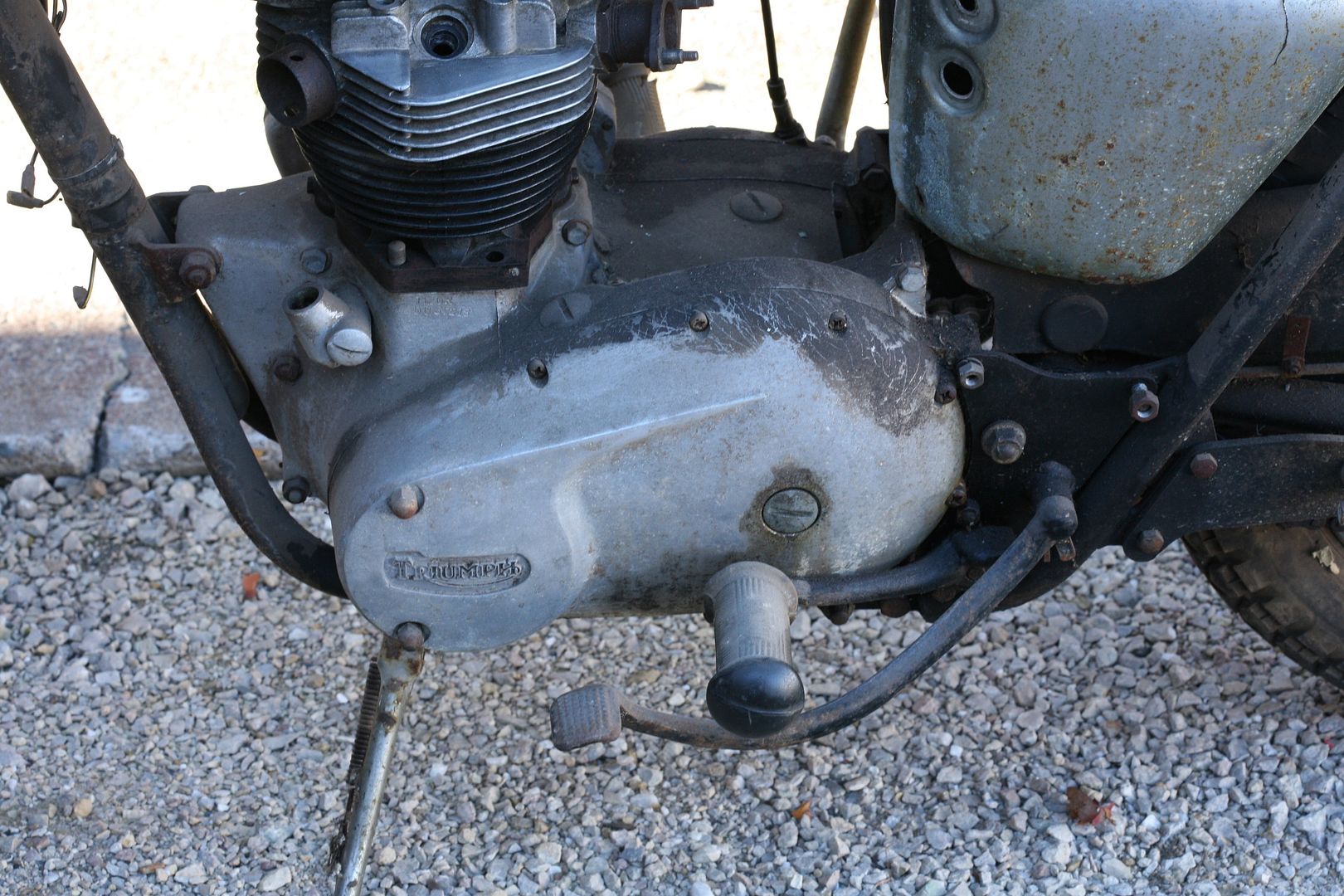 On my long, windy drive back to Minnesota I thought about how I want to build this bike and decided to keep everything in factory stock US style condition with two exceptions which can easily be reversed. First, I'll use the 3 ½ gallon tank and paint it as a 1966 TR6 Trophy with Pacific blue and white with a gold pinstripe complete with a parcel grid on top and secondly install a UK (home) market lower handlebar. I do not like Triumph slimline tanks, which were introduced in 66, and believe the TR6 blue and white color combination is Triumph most beautiful bike of all time. However, I do not want the white and blue fenders of a TR6 because white is very difficult to keep clean, so I'll polish the stainless steel fenders that came with my bike. So basically this will be a bone stock 66 Bonneville with a TR6 tank and lower UK handlebars. I'll keep my eye out for a decent original slimline tank, paint with the correct white and grenedier red stripes, and store it if I ever chose to sell this bike (unlikely).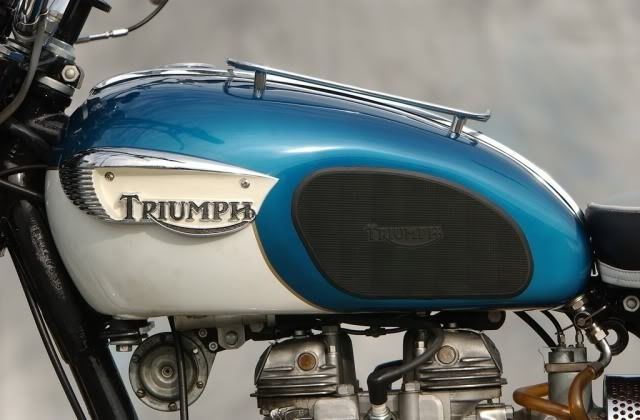 [/URL]
(1966 TR6 tank, beautiful)
My goal.
I spent most of Friday and Saturday, examining the bike and breaking down the motor. I took my time, made notes, took many photographs, cleaned and examined everything, labeled and bagged all the parts and made a list of things to buy. I have the correct Triumph service tools, a hydraulic press, and an impact driver with Pozidrive bits so everything came apart easily.
I was pleasantly surprised to discover nobody has been in the lower end of this motor. The gear box and components are pristine!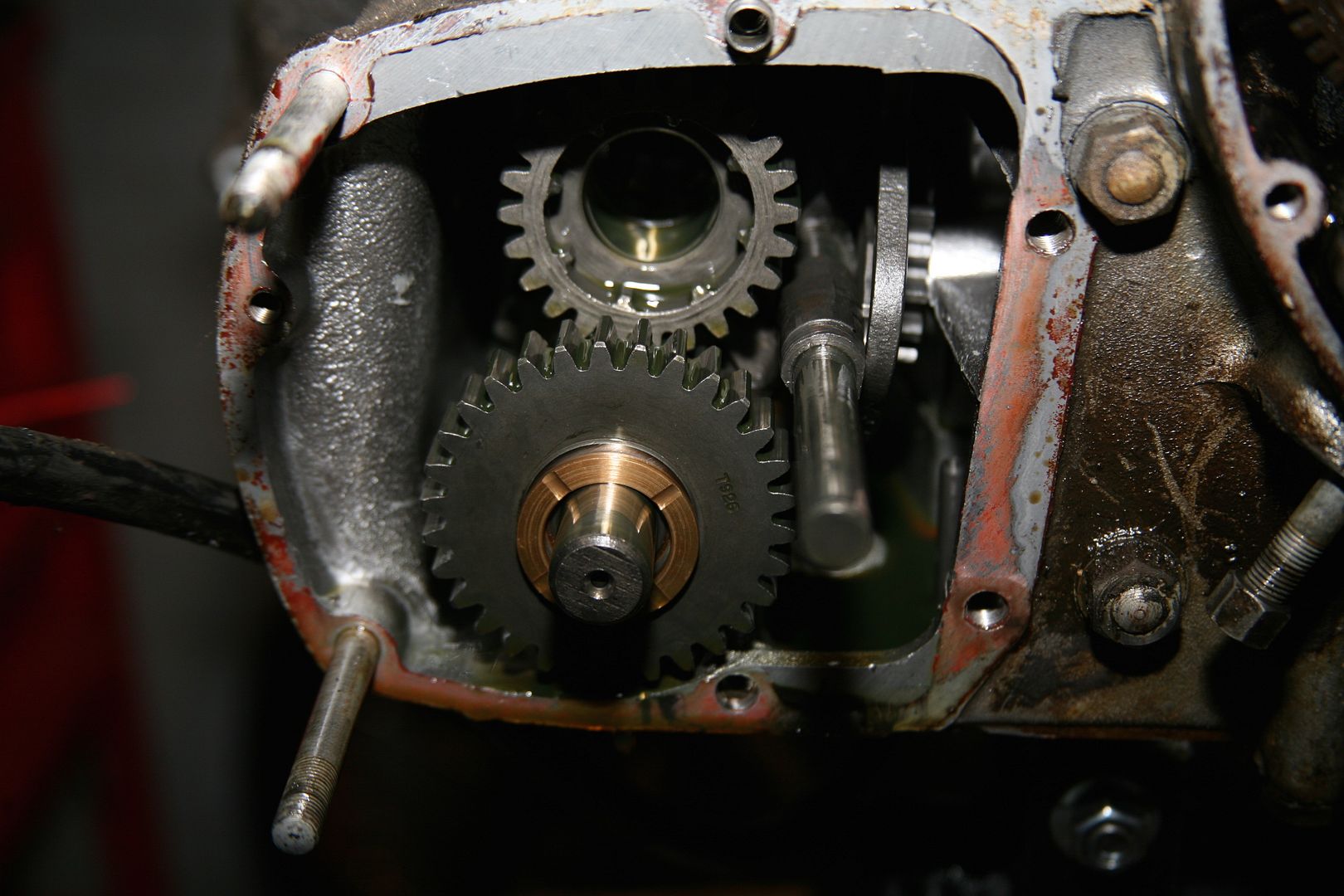 The crankshaft, conrods, camshafts, tappets and main bearings are perfect. I will pull and clean the sludge trap this week and measure the conrod tolerences and replace what ever is suspect or out of factory specification. The primary is good except for the clutch basket which is on order. This is a low mileage bike that has been sitting for 40 years. The motor cases, cylinder head and rocker boxes were washed in my parts washer, rinsed with hot soapy water, scrubbed with Simple Green and a red 3M scrub pad for metal and then blasted with a combination of walnut shell and glass beads. The parts were then washed several times with hot soapy water and dried with compressed air, making sure to remove any leftover blast media. All will be sent to Green Tree Scooters tomorrow for vapor blasting.
clean and ready for vapor blasting
All the hardware will be cleaned, bead blasted and sent out to be cadmium plated as it was originally. All the black bits will be stripped, primered and repainted with catalyzed black paint. My friend Skip will install new valves, guides and seats. Once all of this is done, I'll start going clockwise, enjoy the ride and stay tuned…