Hello good people of dotheton.
I am new to this forum, which I stumbled upon during my research of the little bike I plan to convert into my vision.
I'm one of those peculiar people that buys a bike to mod before actually getting the license to ride it.
In my defence though, I've been around bikes for quite some time now (both parents rode at some point, now only my dad rides his suzuki and Harley) and I worked on bikes of friends on occasion including a wicked s1000rr.
This project will probably last more than long enough for me to get the license anyway.
I cut my teeth working on modifying cars (both rebuilding anything mechanical, and reverse engineering and modifying software). My fix for the itch for power is a 1994 volvo 850 turbo, which I own for quite some time now. I built the engine, and I'm in a never ending process of upgrading the turbo to something larger.
This will be the first time modifying a bike beyond bolting on some aftermarket parts.
The bike in question is a 1980 Kawasaki KZ440LTD. Many would argue it is not an ideal base for a cafe racer, and I would agree to a certain extent, but it was very cheap and it's what I could find that was to my liking. It didn't run at all when I picked it up, but it was cheap enough not to care too much. I was prepared to fix it up if required.
However the engine ran beautifully after spending 5 minutes to fix some electrical issues (the wiring has become a bit of a mess in its 39 year lifespan). It started instantly, and there's no rattle from any of its four(!) internal chains.
At some point someone put some amount of effort (and money) into modifying the thing to some sort of gaudy chopperesque ehm... creation.
It has an apehanger of sorts, and theres chromed pointy nuts and bolts everywhere.
It's not my thing, but I have to say, it was a fun thing to putt around with on the driveway for a bit.
It has been neglected some in the last few years though, resulting in corrosion everywhere and a general state of rattyness and unsafeness.
Here's a pic of it without the saddle on: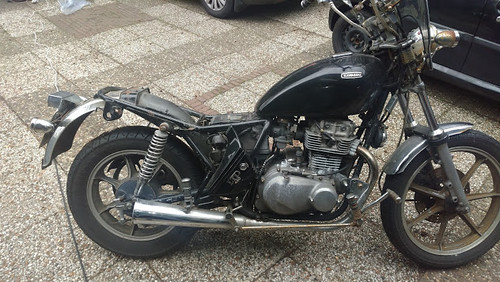 Time to start to put it right.
I have teared it down completely, carefully labeling everything in the process. Some things are still usable, and other things I can adapt for my new build.
It has forward controls for example which look like a good quality set despite their state of decay, so I think I will modify them to be my rear sets later on.
Other plans I have is to redo the entire electrical system of the bike, and bring that to a more modern standard. I will probably design a control box to make this happen.
Once it is more or less completed, and running again I might look into converting it to efi just for the hell of it. I saw a diy efi project (speeduino) that looks promising, and I want to try it out.
Of course these things do not make a cafe racer, but they will contribute to the sleek look I'm after.
Before any of those future dreamings can come to pass there's a big crooked elephant in the room that needs to be addressed.
The rear of the ltd style frame is really not very suitable for the cafe look, so it has to be modified.
I know there are options that don't require modding it, but I'd like to avoid those if I can as they don't appeal to me as much.
Frame modifications are not to be taken lightly, so I'm trying to do this the best way possible.
The plan is as follows (shouldn't be very surprising):
I can tig weld a little, but not good enough to do this kind of work, so my plan is to make the cuts in the frame myself, to make all the parts required for it, and to make them fit perfectly with no gaps, but to let a pro do the actual welding itself.
At this point I have made a brace to keep the rear of the frame into shape while it is worked on: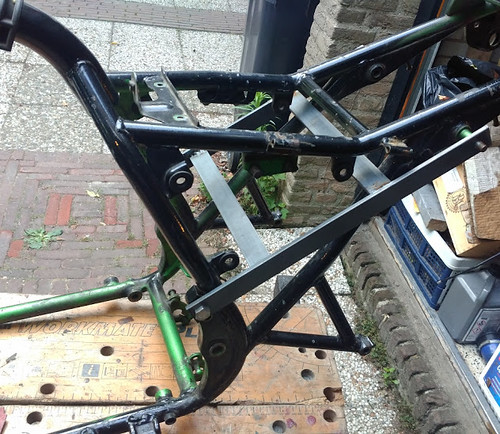 It's made from quite thick steel strips, and the boltholes have quite a tight tolerance, so there is no discernable movement however much I yank it. It has a bit less leverage than the original upper frame rails have due to its angle, but I think it should be sufficient. The only movement I can imagine it making is if the whole thing twisted, but that seems as (un)likely as it is with the original frame rails still in place. It's surprisingly rigid actually. Do you guys have any thoughts? Any pointers are most welcome of course.
I wrote some emails to a few bike shops, but as it is holiday time the replies are only trickling in.
One of the shops insisted that the new parts should be made of chromoly, and charged what I think is quite a bit of cash for the welding (it converts to about 220 dollars).
I'm not sure if chromoly is the best idea, as I don't believe the frame is made from chromoly so it would mean joining dissimilar metals.
Also adding some bracketery would be inconvenient, as it is harder to weld chromoly. Mild steel of sufficient thickness (2mm) would be just fine I feel, but feel free to correct me.
Anther replied that he didn't know what kind of material these frames are made of (does anyone know this?), so he didn't want to risk working on it.
Hopefully I can find someone proficient that can do the work for a reasonable price.
I'll try to log my progress here as much as I can. It will take time, but hopefully it will be interesting to someone.